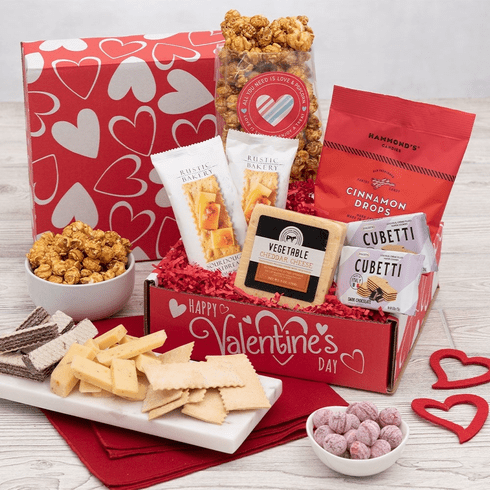 Valentine's Day Cheese and Cracker Care Package
February 14th, AKA - Valentine's Day, is the perfect day to show your partner, best friend or sister, father, etc.. just how much they mean to you. Sending a thoughtful gift filled with their favorite snacks is a great way to show how much you care. Our gourmet gift creators put their hearts and minds together and created the Valentine's Day Cheese and Cracker Care Package, filled with a delicious assortment of snacks. The object of your affection will enjoy cheese and crackers, cookies, cinnamon and brown sugar popcorn, and cinnamon drops. Happy Valentine's Day!
Features:
Dark Chocolate Cubetti by Fusion Gourmet - .9 oz.
Cinnamon Drops by Hammond's - 4 oz.
Cinnamon & Brown Sugar Kettlecorn - 1.4 oz.
Vegetable Cheddar Cheese by Mountain View Farms - 6 oz.
Olive Oil & Sel Gris Organic Flatbread Crackers by Rustic Bakery - .7 oz.
Shipping (Processing Time + Transit Time): Processing time is approximately 1-2 business days to leave the warehouse plus transit time.