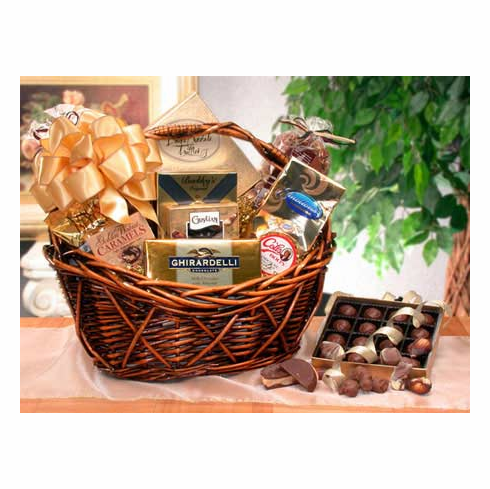 Chocolate Gourmet Gift Basket - Medium
The
Chocolate Gourmet Gift Basket
is a chocoholic's dream come true! Surprise the chocolate-lovers in your life with the sweetest collection of chocolate delights that you can imagine. Full of everything from truffles and candies to cakes and brownies, the chocolatey gift basket is sure to be a crowd-pleaser! All goodies are packed in a dark-stain basket that will be enjoyed for years to come. Note: This item
must
be shipped via Next Day Air from April 26th to mid October to ensure that chocolate does not melt. All other ship methods are permitted, but we are not responsible if the chocolate melts in transit. Large is pictured; Medium's contents include:
Ghirardelli Chocolate Bar .25 oz.
2 oz Chocolate Peanut Butter Delight
Gourmet Treats Chocolate Brownies
Malta Bella Chocolate Cappuccino
3 oz Mocha Truffles
14 oz Chocolate Fudge Pound Cake
1.87 oz. Chocolate Caramel Hearts
2.5 oz. Rocky Road Popcorn
2 oz Chocolate Fudge Popcorn
6 pc Assorted Ghirardelli Chocolate Squares
12" Dark Stain Basket
Disclaimer: Please be advised that some components may sell out and will be replaced with something similar of equal or greater value.
Shipping (Processing Time + Transit Time):
Standard Shipping Orders: Processing time is approximately 2-3 business days to leave the warehouse plus transit time.
2nd Day & Next Day Express Orders: Processing time is approximately 1-2 business days to leave the warehouse plus transit time.
Please note that this item cannot be shipped to Alaska, or Hawaii.
Please Note: This item is not returnable.
Chocolate Gifts
All chocolate gifts are shipped at your own risk. We do not pay claims of any kind on melted chocolate as it is out of our control where UPS will leave a package and they do not pay claims on melted items. We do not offer refunds or discounts of any kind for melted or damaged chocolates even when they are shipped via air and on ice.